Globally, we are experiencing huge talent shortages, especially in the IT sector. Experts predict that by 2030, organizations around the globe risk losing $8.4 trillion in profits if they don't find a solution. o address this challenge, many companies use outsourcing and outstaffing strategies. According to Statista data, the global outsourcing market was worth 92.5 billion U.S. dollars in 2019, with a large share coming from Offshore Development Center (ODC) services. 
ODC is a popular software development model among the world's top 500 organizations, with over 80% of them using it. But what exactly is ODC, what does it mean, and how can it benefit your business? Let's decode ODC and explore its definition and advantages in this blog. 
What Is ODC?

 
ODC stands for "Offshore Development Center." An Offshore Development Center is a team of software specialists who work remotely to deliver customized software solutions and support to clients in different locations. The ODC is usually based in a low-cost country with a skilled workforce. The main benefit of an ODC is to offer clients cost-effective software services. These services include software design, development, testing, and maintenance. The ODC team can handle various software projects, from simple applications to complex enterprise systems.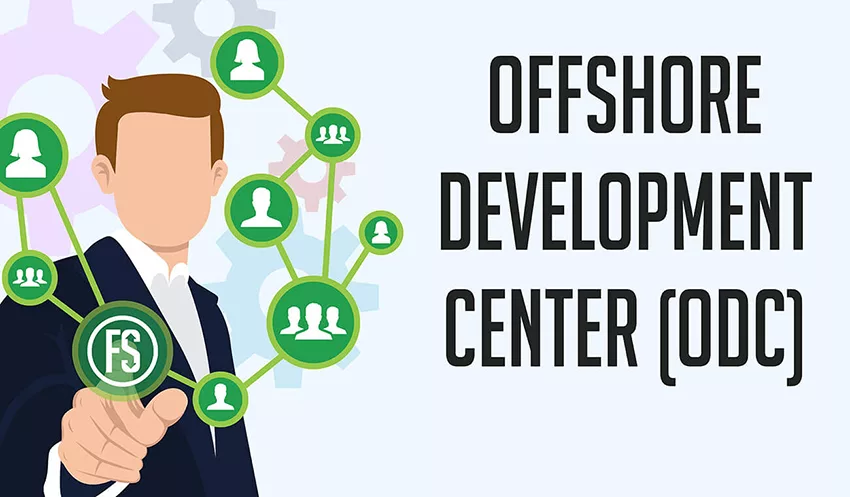 ODCs are often owned and operated by offshore outsourcing companies or IT service providers, who may also have offices in the client's country. The ODC model has several advantages, such as cost savings, access to talent, and flexibility to scale up or down depending on project needs. However, there are also risks to consider, such as communication and cultural differences, as well as data security and intellectual property issues. 
Who Needs an Offshore Development Center?
ODCs are ideal for tech companies that need specific skills to create innovative solutions. Some examples of such companies are:
– Software developers
– IT service providers
– Ecommerce platforms
– Telecom operators
– Cloud computing
– Fintech firms
– Data vendors
– IoT and more
These companies rely on ODCs to access talented and experienced developers who can help them achieve their goals. ODCs offer flexibility, scalability and cost-effectiveness for both startups and established businesses.
Top Offshore Development Center Benefits
An offshore development center (ODC) can offer many advantages for an organization. Here are some key benefits of working with an ODC:
Access to a Skilled and Diverse Talent Pool
An ODC can help you find and hire very knowledgeable and talented developers in countries like Ukraine and Poland, where the hiring process is faster and easier than in the US.
Increased Efficiency and Reliability
An ODC can deliver development projects faster and better, thanks to their expertise, infrastructure, and competitive prices. You can trust them to provide high-quality services and meet your deadlines.
Access to Established Infrastructure
An ODC can provide you with the infrastructure and personnel you need to outsource development projects without worrying about the challenges of global project delivery. It would take you much longer and cost you much more to develop an IT application on your own.
Reduced Development Costs
An ODC can help you save money on your development costs, up to 40% if you offshore to a country like Vietnam. You can also benefit from lower taxes, labor costs, and operational expenses.
Allows You to Concentrate on Your Primary Business
If your core business is not IT-related, managing your own IT department can be overwhelming. Outsourcing these complex IT tasks to an ODC can free up your time and resources for other important and profitable activities.
Read more: 8 Benefits of Outsourcing IT Development to Asia You Need To Know
How To Set Up an Offshore Development Center
Here is a very helpful offshore development center checklist to get you started.
To set up an offshore development center, you need to:
1. Pick a location
The best places for IT companies are Eastern Europe and Asia, because they are cheaper and have a lot of talent. Vietnam is a popular choice, because it has many skilled and educated IT specialists, a fast-growing IT industry, and a good relationship with the US.
Why Vietnam?
Vietnam is a promising destination for IT Outsourcing, thanks to its abundant and skilled IT workforce. According to the latest statistics, Vietnam has attracted USD $438.7 billion in FDI, with a significant portion going to the IT sector. Vietnam has about 480,000 IT engineers, and produces 57,000 IT graduates each year. Moreover, the quality of the IT talent is high, as 59% of the developers are at the middle level or above, and 53.97% of them are aged 20-29. Vietnam also ranks 7th in Asia and 60th globally in English proficiency, which facilitates communication and collaboration with international partners.
Read more: How to set up an Offshore Development Center (ODC) in Vietnam
2. Find a reliable partner.
You need someone who can help you with the local laws, regulations, and culture, and who can connect you with a great team for your project.
Here is a graphic that shows how to choose a partner for your offshore development center: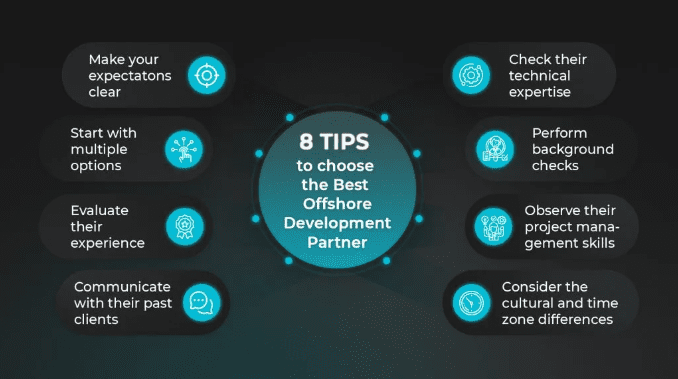 The quality of your work depends on the people you collaborate with. That's why recruiting the best talent is essential for your success. You need to build a team of experienced programmers who have proven skills and good references. You also need to foster a strong and lasting partnership with your clients.
To achieve this, you need a suitable offshore development office where you can host your software engineers and provide them with all the necessary resources. You need a comfortable and attractive workspace that boosts productivity, inspires creativity, and impresses your visitors.
You also need legal support to protect your interests and negotiate favorable contracts. You need local lawyers who know the laws and regulations of the country where you operate.
Moreover, you need to equip your offshore development center with the latest technology and tools. You need to make smart purchases that meet your needs and budget.
Finally, you need to manage your accounting and HR payroll system efficiently. You need an accountant to handle invoices and payments, and a specialist to ensure compliance with tax and labor laws. You also need someone to track your employee's performance and satisfaction.
Leveraging ODC for Business Success with CMC Global
Setting up an offshore development center can be challenging, but we are here to help! At CMC Global, we offer a complete solution for companies who want to establish their own ODC. We provide you with everything you need, from recruitment to procurement. Contact us today and let us help you get started!