In terms of expanding business to Vietnam, setting up an Offshore Development Center (ODC) is the quickest and most cost-effective option for IT startups and enterprises. However, the local market and the set-up process itself are complicated for newcomers to Vietnam. This e-Book is the perfect guide for any business looking forward to entering this burgeoning market with a new ODC.
First, what is an ODC?
ODC, short for Offshore Development Center, is an offshore team located abroad that provides software development services to the company. In other words, it is a subsidiary of a company operating in another country. ODC is a popular business model for different types of companies, including startups and enterprises. For the IT sector, ODC is known as an ideal option for business expansion to Vietnam, especially when IT companies have successfully used the model to offshore the development, design, and testing of their products.
Through extensive research and practical experience, we are proud to present our 6–Step Guide to Winning Over Vietnam IT Market with an Offshore Development Center: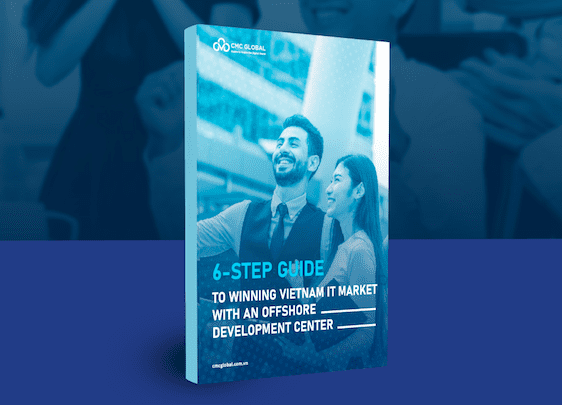 Step 1: Know your destination and its growth potential
In this section, our team of authors has listed and analyzed the reasons why Vietnam should be at the top of investors' minds. One of the key highlights for your consideration is the Ease of Doing Business data from the World Bank, where Vietnam was ranked 70th among 190 economies in the Doing Business 2020 report.
Step 2: Make a perfect preparation
In this part, we answer the most frequently asked questions regarding the Vietnamese market from a business as well as legal standpoint:
What is the size and growth of the market?
How does the local legal and regulatory regime impact my identified industry?
How much should I localize?
What is the go-to-market strategy to quickly set up and build my business in Viet Nam?
Step 3: Evaluate entry-mode options
This section compares the three main options for starting up a business in Vietnam, including Company/ Representative Office Establishment, Mergers & Acquisitions (M&A), and Offshore Development Center (ODC). It explains why ODC is the most suitable for IT businesses.
Step 4: Start with a well-planned ODC process
This step is where you should start to look into the various ODC vendors on the market and the solution and services that they offer. Our requirement checklist and standard set-up process is a valuable suggestions for those wanting to expand their business with an ODC.
Step 5: Deep dive into best practices
In this section, we integrate best practices from our own case studies as a trustworthy and realistic perspective for you to manage your future ODC. These are great examples of successful ODC projects in Vietnam and how to manage them.
Step 6: Find your trusted local partner
Last but not least, we include a comprehensive checklist for vendor selection. After all, this is a huge step in the development process of your company and its corporate branding. So don't hesitate to refer to our suggestions to ensure you are working with the highest-quality partner possible.
In conclusion, this booklet sets out to provide you with the know-how about the process of investing in Vietnam, from market analysis to legal explanation for the current business climate. We believe that with more than 27 years of experience in the ICT market, as well as many successful ODC projects, this e-Book from CMC Global is a valuable key to your business expansion.
If you have further inquiries, please do not hesitate to contact us through any channels listed at the end of the e-Book.