Last year, the RPA global volume was at 1.3 million USD, in 2020 it is projected to reach five billion USD. Business process outsourcing (BPO) in big enterprises often requires large-scale manpower. Using robots will enable these workers to perform higher value activities.
RPA: An insight into the emerging field of business automation
RPA stands for Robotic Process Automation, which capitalises on software applications (robots or bots) to replicate and improve repetitive and manual tasks performed by humans. It is versatile and flexible to deployed in companies of all sizes, from start-ups to the largest enterprises, thus bringing them one of the most high-tech solutions to gain success in the digital age.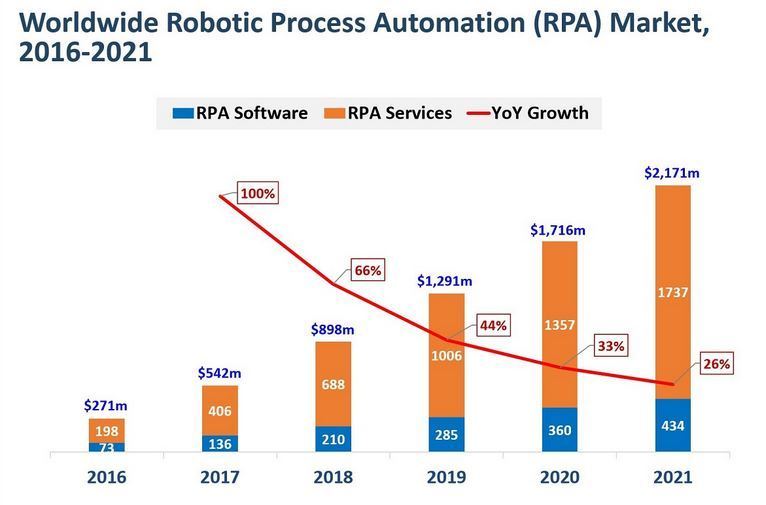 It is proved that automation market, including RPA, will follow mobile Internet to become the technology that has the second largest economic impact with the potential number of nearly 6.7 trillion by 2025. The growth of RPA has been obviously significant in the last five years, making it one of the leading technology platforms worldwide. Thus, it is no exaggerated to state that applying robots into business process helps enterprises to own one more key success factor for strongly and constantly development and gaining achievements.
RPA: The solution to efficient office resource
Humans are the most significant when it comes to office resources. There is no dispute that humans resource plays an irreplaceable importance in the business operation. An employee can dedicate his best, from domain knowledge to experience, especially his aspiration and inspiration. However, there is obviously numerous human limitations that pose challenges for enterprise to grow larger. For that reason, robots or bots become a solution.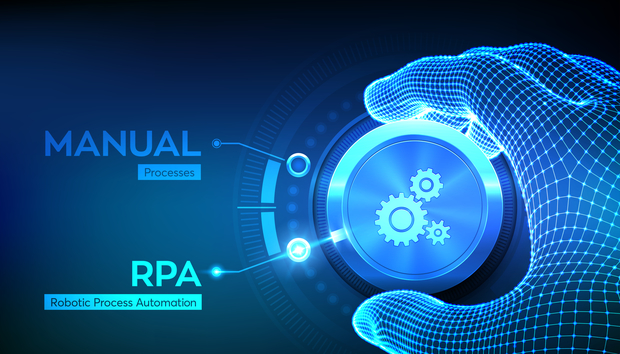 RPA lowers error rate and strengthens compliance. In high complexity tasks that require the significant levels of accuracy and auditable, robots can perform better than humans. RPA devices are trained to take part in the repetitive production process with astounding rate of speed and perfect results. According to a research of IDC, in average, one multinational corporation costs approximately $62.4 million per year due to human error. Additionally, with RPA, the accuracy and efficiency rate of manual task can increase by a vast of 50%. The statistics give us a quick look on how lower error rate links with business cost and why robots should be used especially in high complexity tasks such as analytics or manufacturing. It is not to mention that being free from manual tasks, employees are capable of focusing on the more creative and rewarding work, thus improving the productivity as well as impressive results.
RPA optimizes the investment cost. Cutting on manual labour cost means that enterprises save a large amount of money for operation. RPA is such a direct deployment that reduce the cost of a high complexity implementation and pilot programs. Due to the business size, the number of cost-saving is different among companies. However, the following evidence of a global healthcare technology company with a presence in nearly 100 countries will be helpful for you to estimate how much money your companies can save thanks to RPA implementation. By automating 140 processes with about 200 bots running round the clock, its finance accounting operations team saved 400,000 man hours and the financial planning and analysis team saved 23,500 man hours on average. Hundred thousands of man hours cut down lead to a vast amount of money saved. Moreover, RPA helps enterprises to gain higher return on investment (ROI). RPA is not just about efficiency but a solution to customer experiences improvement, which will be essential in retaining revenues.  "Current Automation Anywhere customers are already increasing investments to increase ROI and potentially hedge against a declining economy," said Prince Kohli, who is the CTO of Automation Anywhere.
In conclusion, RPA is beneficial for every enterprises to optimize office resource, thus resulting in higher profitability and scalability. Stepping into the fourth Industrial Revolution, deploying high-tech solutions such as robotic automation and artificial intelligence is an irreversible trend for business worldwide. 
CMC Global has strong competence in RPA
CMC Global is constantly striving to improve our capacity in implementing RPA projects. In December 2019, CMC Global owned 10 RPA Automation Anywhere certificates. Additionally, in order to improve the efficiency and productivity of business activities, we have successfully applied RPA for the internal system, solving a heavy workload for our employees. Those are strong evidence proving our serious effort in developing RPA competence as well as implementing new technology solutions to bring customers the best IT services and products.